Hi there, I'm glad you're here!
If you are new, welcome to AbsolutelyRAD where we learn how to develop and live a Radiant, Authentic, and Dazzling lifestyle! If you have been part of the RADster community, hey RADster!
How are you holding up during these times of COVID-19 outbreaks, stay at home orders, and social distancing? Whether you are taking things a day at a time indoors, or are bracing yourself as you go out there as an essential worker, I am sending love, light, positivity, and prayers your way. To everyone staying safe indoor, make time to reach out to your loved ones. Dance a little, watch your favorite show(s), slide in some comic relief (laughter is good for the soul). To the essential workers, THANK YOU! for your courage and bravery in all you continue to do for our communities. God bless us all!
We can all agree that we are living in very uncertain times; some of us have lost jobs, some of us are unsure of how/whether we can afford to stay afloat, some of us find it difficult to stay focused as we work from home, and some of us are downright nervous about catching the virus. Our fight or flight responses are heightened! Anxiety is real and fighting its way into our thoughts.
Personally, I have had to capture my anxious thoughts and fears more during these times. Since we are all living through the pandemic and are going through this experience together,  I wanted to share how I have been navigating moments of anxiety during this season.
I mentioned capturing my thoughts and fears, I do this by first recognizing them and then taking them to the Lord in prayer. "Lord, I woke up worried about my future. You want me to cast all my worries on You because You care about me, and here I am. Please help me to leave these worries at your feet and help me to remember that You have good plans for my future." I add specific details in my prayer as well, and you can too. God's peace is readily ours, let's tap into it.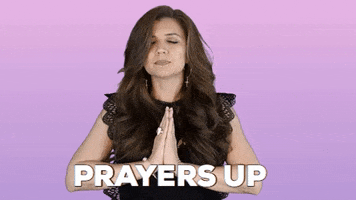 Reading comforting scriptures when I feel anxious or afraid also helps me a lot. After all, within the scriptures are God's love letters to us. Here are some go-to scriptures I use: Psalm 91, Psalm 18, Psalm 23 and Isaiah 43, feel free to click on each one and bookmark them on your phone or find them in your bible and highlight them. Pick one verse that resonates with you or makes you feel at peace and make that your mantra for the day.
Sometimes it may feel like the mind is racing 1000 miles per minute and you just wish something or someone could interrupt those thoughts. In those moments, I like to listen to some worship music to renew my mind and remind myself of truth. Sometimes I decide to cue some 70s music (Earth Wind and Fire anyone?) or some Pop praise music (give Hillsong Young and Free or PlanetShakers a try) and JUST DANCE! (Cut loose…shake it off) It makes for a great exercise too!
Lastly, I do my best to stay in touch with my family members and friends. Remember, we are all in this together. Rather than waiting on someone to text, call or Facetime you (trust me I'm guilty of this, but I am working on it), pick up your phone and call them. You never know how you reaching out helps another person through their day. Try to keep the conversation light, the goal is to help relieve the emotional and mental exhaustion COVID-19 has likely caused. Talk about your new fave dish, your new fave show, hair, makeup, e.t.c
By the time I'm done with either of these options I feel much better! What are some things you have done or are doing to address anxiety, fear, or worry while practicing social distancing? Share in the comments section below.
We'll be able to go back outside soon, while we remain indoors cherish the life you have, cherish your loved ones, and cherish the little things!
Cheers to overcoming this together!
∼Moyo∼
---
I'd like to provide an opportunity to those who are yet to meet with Jesus. If you have a deep desire to know Jesus and enter into the kingdom of God you are in great company. I did at some point in my life, and it was the greatest desire that God ever met! 
I invite you to pray the sinner's prayer: Dear Jesus, I accept that I am a sinner and I confess my sins before you. I believe that you died for my sins and rose again to give me a new life.  I ask that you forgive me of my sins; cleanse me with your precious blood which you shed on the cross of Calvary. I accept you as my personal Lord and Savior. Fill me up with your Holy Spirit and strengthen me. I profess that I am a new creature; old things have passed away and I have become new in You. Thank You, Lord! In Jesus' name, AMEN!
If you prayed the prayer, WELCOME TO THE KINGDOM FAMILY!! You are a new creature, the old has passed and the new is here! Be sure to find a bible believing, Spirit-led church in your city and purchase a bible in a version that you understand. I use the  New Living Translation, Message, Free Bible, Christian Standard Bible, or the New International Version. Enjoy the journey!