Hello! ¡Hola! Bienvenidos!
We are 65 days into quarantine on this side of the pond. How many days have you spent in quarantine so far, or are you out of quarantine on your side of the world? How are YOU feeling? I hope you have been able to reach out and connect with loved ones.
A few days ago, a colleague and I engaged in an argument a healthy conversation; we each passionately expressed our opinions about the subject matter. We were each convinced of our stance and were determined to get our point across, hoping that the other would agree. At some point, one of us said: "Whatever you say. Let's just agree to disagree." (Ha! I win🤣)
I reflected on that conversation, and I wondered how this translates into my relationship with God. Am I often in agreement with God? If so, how am I getting in agreement with God? Am I passively going with the flow, or am I actively aligning myself with Him?
2 Corinthians 1:20 gives an example of active alignment. An active alignment engages us in the process of getting into agreement with God. It is not simply accepting God's autonomy as if He were a dictator -"Ok God, do whatever you want in my life," rather it is agreeing with Him as our Heavenly Father and Companion.
I find that we sometimes picture God as a ruler who makes executive decisions concerning our lives without ever considering our desires. However, the more I read about God's character, the more I recognize that the Almighty God does consider our desires and wants us to be involved in our process of becoming. Essentially, God wants a relationship, not religion. Psalms 37:4 CSB tells us that God is well interested in our hearts' desires- "Take delight in the Lord, and he will give you your hearts' desires." Dare I say that God does not desire a Master-Slave relationship with us, but a Friendship. Jesus mentions in John 15:14-15:
14You are my friends if you do what I command you. 15 I do not call you servants anymore, because a servant doesn't know what his master[a] is doing. I have called you friends, because I have made known to you everything I have heard from my Father.
🎵Whaaaat a friend we have in Jeeeesus🎵(Sing it with me!🤣)
But seriously, I do not believe that God wants us to experience His promises randomly or haphazardly. I believe that God desires that we unwrap His precious gifts to us consciously and intentionally. God wants us to be aware and present in our relationship with Him.
Read 2 Cor 1:20-22 MSG version; God expects us to engage, to participate, and be active in the process of Him fulfilling His promises in our lives. Verse 20 tells us that all of God's promises are affirmed in Christ, and we also have a part to play. Verbatim, the verse says "Whatever God has promised gets stamped with the Yes of Jesus. In him, this is what we preach and pray, the great Amen (God's Yes and our Yes together), gloriously evident."
We may sometimes wonder why we are not experiencing the fullness of God's promises in our lives. Or we think to ourselves, "How come that one person can get all the great things they want, but I'm struggling to even scratch the surface?" May I submit to you that this might be due to our lack of getting in agreement with God?
Can two walk together unless they agree? (Amos 3:3)
Agreeing with God is not a new concept for believers. It might be an area in which we need improvement, but it is not uncharted territory. Think about it! The entire premise of your relationship with God and mine started with an agreement. We each got in an agreement with God that we desperately needed to be saved from sin and the sentence of eternal death. As believers, we each agreed with God that our need for salvation was made available through Jesus Christ. In this same manner, we each should continuously get in agreement with God regarding all that concerns us. As with every other relationship we have, the best way we agree with God is with our YES!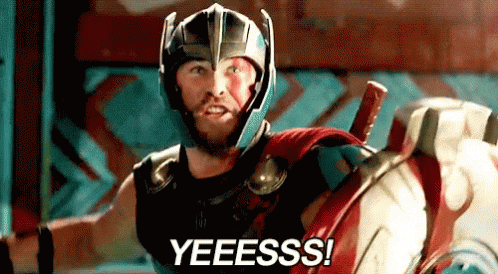 Years ago, I received this revelation that giving God our YES is an act of Yielding Everything Submissively. Eeekkk…she said the S word! Noooo not the S word! I surely did! To majority of us, the words submit, submission, submissive immediately translate to losing the ability to give input, or to express an opinion; however, I believe submitting showcases authority in itself (when done in the right way within the right concept, but that's another blog post for another day). Recognizing that we have a choice and choosing to submit says: "I have every ability to decide how I would like to live, and I decide to give God a shot rather than do life on my own terms. I CHOOSE TO TRUST GOD." God doesn't force His plans and promises on us, rather He offers them and awaits our agreement to get on board. Isaiah 30:18-20 AMP
18Therefore the Lord waits [expectantly] and longs to be gracious to you,
And therefore He waits on high to have compassion on you.[a]For the Lord is a God of justice; Blessed (happy, fortunate) are all those who long for Him [since He will never fail them].19 [b]O people in Zion, inhabitant in Jerusalem, you will weep no longer. He will most certainly be gracious to you at the sound of your cry for help; when He hears it, He will answer you. 20 Though the Lord gives you the bread of adversity and the water of oppression, yet your Teacher will no longer hide Himself, but your eyes will [constantly] see your Teacher.
So, are you planning to say Yes? Are you choosing to yield everything submissively to God? Before you do, be sure you mean it; let your yes be yes! (Matthew 5:37)
If you are like me, you tend to want to run ahead and INSTANTLY become awesome at everything you have decided to do. Way to go achiever! But can I help you reduce the burden you are about to place on yourself? Let's take this one day at a time. Agreed? Agreed
Ask yourself this question: How can I say YES to God today? Then ask the same question tomorrow, and the next day, and the next day. My answer for today is by committing my day to God in prayer. What's yours?
For your listening pleasure:
∼ Moyo ∼
Update 6/8/20: "Now yield and submit yourself to Him [agree with God and be conformed to His will] and be at peace; In this way [you will prosper and great] good will come to you."
‭‭Job‬ ‭22:21‬ ‭AMP‬‬
---
I'd like to provide an opportunity to those who are yet to meet with Jesus. If you have a deep desire to know Jesus and enter into the kingdom of God you are in great company. I did at some point in my life, and it was the greatest desire that God ever met! 
I invite you to pray the sinner's prayer: Dear Jesus, I accept that I am a sinner and I confess my sins before you. I believe that you died for my sins and rose again to give me a new life.  I ask that you forgive me of my sins; cleanse me with your precious blood which you shed on the cross of Calvary. I accept you as my personal Lord and Savior. Fill me up with your Holy Spirit and strengthen me. I profess that I am a new creature; old things have passed away and I have become new in You. Thank You, Lord! In Jesus' name, AMEN!
If you prayed the prayer, WELCOME TO THE KINGDOM FAMILY!! You are a new creature, the old has passed and the new is here! Be sure to find a bible believing, Spirit-led church in your city and purchase a bible in a version that you understand. I use the  New Living Translation, Message, Free Bible, Christian Standard Bible, or the New International Version. Enjoy the journey!